Moscow says violation of Turkish air space a "mistake"
Comments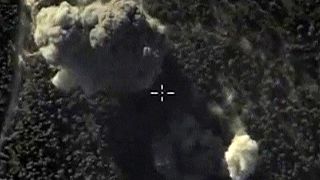 Air strikes by Russian fighter jets over Syria have sparked a row with with Turkey.
Ankara summoned Russia's ambassador to protest over the violation of its air space in two separate incidents. The response – it was a "mistake" that would not happen again.
NATO members are set to meet to discuss the "latest developments".
Moscow confirmed it continued "performing pinpoint strikes" on ISIL targets and in 25 sorties hit nine militant group targets including a communications centre in Homs.
Iraq's most powerful Shi'ite militias have called on Moscow to attack ISIL in their country.
"I have heard the statement from the Iraqi prime minister about his interest in getting the help of the Russian air force to fight terrorist positions in Iraqi territory. He said it after the first days of our operation in Syria proved successful." Russian Foreign Minister Sergei Lavrov told reporters.
On the ground the sniping has not eased.Turkey's Prime MInister Ahmet Davutoglu said Moscow has escalated the Syrian crisis by entering the conflict. He made clear Ankara would respond if provoked.
In a statement Syrian insurgent groups have called on regional states to forge an alliance against Russia and Iran in Syria.