Portugal's Socialist leader Costa promises alternative to austerity
Comments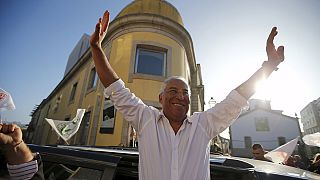 Antonio Costa is more popular than the Socialist party that he leads. He goes into these elections enjoying the appreciation of Lisbon residents; he was their mayor from 2007 till spring this year. He mixes well with people of all walks of life. The former lawyer has been politically active since he was 14.
I would consider a grand coalition in the event of an alien invasion.
While he proposes pulling back from austerity, he stresses that Portugal's Socialists are not like Greece's Syriza party, even though he openly welcomed the recent reconfirmation in power of the radical left coalition in Athens.
The 54-year-old, descended from a family of intellectuals in the former Portuguese colony of Goa said: "What I feel all over the country, what I hear every day in the street is what every one of you also hears every day: there's a huge desire for change on 4th October. There's going to be a serious change in Portugal."
A main slogan for the Socialist campaign is: "There is another way." The former Lisbon Mayor proposes boosting incomes, hiring and growth while scrapping austerity measures and cutting taxes, insisting that would still allow deficits to reduce in line with European rules.
A former euro-MP and one of the 14 Vice-Presidents of the European Parliament, Costa is pro-Europe. He stepped down as an MEP in 2005 to become Minister of State and Internal Administration in the government of Jose Socrates.
The Socialist Party chose Costa as its prime ministerial candidate in these elections last September. He won nearly 70 percent of the votes in a party ballot, defeating leader Antonio Jose Seguro, who then resigned. Costa had the support of the former prime minister but even that did not seem to detract from his eligibility, even though Socrates was detained as part of an investigation into allegations of corruption, money laundering and tax fraud. Socrates was sent to prison.
Costa did not lose his cool in a television debate with his opponent in these elections, Prime Minister Pedro Passos Coelho, who fired off: "Your demagoguery clashes with reality."
Costa accused Coelho: "You wanted the Troika in Portugal! [referring to the European Commission, European Central Bank and the International Monetary Fund who bailed Portugal out in 2011] I have a statement where you say with satisfaction the Troika is here at our request."
Actually, it was the previous Socialist government that asked for help.
Costa would consider a coalition with the right or far left, he told one interviewer, only if there was an invasion from outer space.