Israeli security forces and Palestinians clash amid heightened tensions
Comments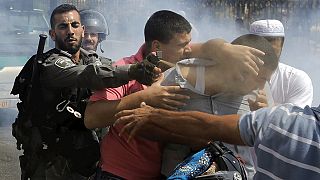 Clashes have erupted between Israeli security forces and Palestinians in Jerusalem.
It comes after days of unrest at the al-Aqsa compound. Palestinians say they fear increasing visits by Jewish groups to the holy site are eroding Muslim religious control.
Israeli police say they beefed up security ahead of Friday prayers and allowed entry to Muslim men over 40 and to women of all ages.
Police also released CCTV footage, which is said to show a Palestinian man throwing a fire bomb towards Jewish shopkeepers inside Jerusalem's Old City.
There have also been clashes in the West Bank city of Hebron, where Israeli security forces used tear gas against Palestinian protesters.
The clashes came a day after an Israeli couple were killed while driving through the West Bank.
Thousands turned out for the couple's funeral on Friday.
Israel's prime minister claims the attack was the result of Palestinian incitement.
The Palestinian Islamist group Hamas praised it as an "heroic operation."