Russian fighter jets step up attacks on Syrian insurgents
Comments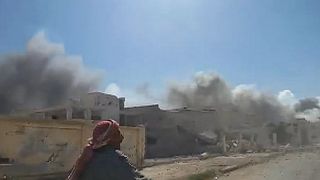 Russian warplanes have carried out more bombings of rebel positions in Syria for a second day.
The Russian defence ministry has released footage to show the precision of its strikes against what it originally claimed were purely Islamic State militant ground positions. After other rebel fighters and the US claimed disputed this, a Kremlin spokesman clarified that a list of "well-known" terrorist group were being targetted.
Moscow says ammunition depots and a command centre near Hama were hit along with a facility aimed at rigging cars with explosives for suicide attacks.
According to some reports, the jets conducted at least 30 sorties targeting the so-called "Army of Conquest", an alliance of insurgents including al Qaeda's Nusra Front but not Islamic State.
But pro-opposition sources say the strikes hit other areas in Jisr al Shugour, Idlib and Hama provinces, strategic zones for maintaining a presence and protecting the coast.