France claims Russian jets have struck rebel, not IS forces in Homs
Comments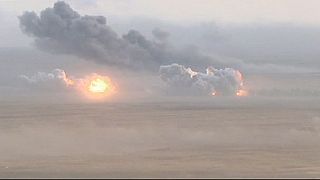 The Russian defence ministry says it has started operations in Syria and has launched air strikes against the militant group the Islamic State.
A US official said Moscow gave Washington an hour's notice of the strikes. President Vladimir Putin has said Russian engagement in Syria is "temporary".
One video posted on social media and not verified reportedly showed a strike on the town of Talbeesah near the city of Homs. Activists allege the attack was launched by Syrian government planes. French diplomatic sources say if that is the case the strikes are targeting anti-Assad forces, not IS.
The Homs area is crucial to President Bashar al-Assad's control of western Syria. Insurgent control of the area would separate the coastal cities of Latakia and Tartous where Russia operates a naval facility from Damascus.
The Russian defence ministry said its attacks were directed at IS military attacks. The admission from Moscow signals the country's biggest play in the region since the 1991 collapse of the Soviet Union, said one US official.