WHO: All people with HIV should get anti-retroviral drugs
Comments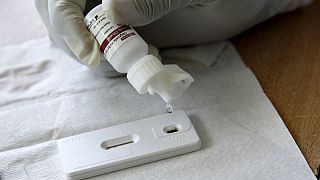 The World Health Organization said on Wednesday that all people with the HIV virus should be given anti-retroviral drugs as soon as possible after diagnosis, meaning 37 million people worldwide should be on treatment.
Recent clinical trials have confirmed that early use of the drugs extended the lives of people with HIV and reduced the risk of transmitting the disease to their partners, the WHO said in a statement expanding current guidelines to its 194 member states.
"Everybody living with HIV has the right to life-saving treatment. The new guidelines are a very important step towards ensuring that all people living with HIV have immediate access to anti-retroviral treatment," said Michel Sidibe, Executive Director of UNAIDS.
"According to UNAIDS estimates, expanding ART to all people living with HIV and expanding prevention choices can help avert 21 million AIDS-related deaths and 28 million new infections by 2030."
Under current WHO guidelines, 28 million people are deemed eligible for anti-retroviral treatment.
Major suppliers of HIV drugs include Gilead, ViiV Healthcare, which is majority-owned by GlaxoSmithKline (GSK) , and multiple Indian generic manufacturers.
All people at "substantial" risk of contracting HIV should also be given preventive anti-retroviral treatment, not just men who have sex with men, the WHO said.
The medical charity Medecins Sans Frontieres (Doctors Without Borders) welcomed the move to expand treatment but warned that "turning this new recommendation into reality would require dramatically increased support from donors and governments"
SOURCE: REUTERS