Louganis revels in role as Team USA diving mentor
Comments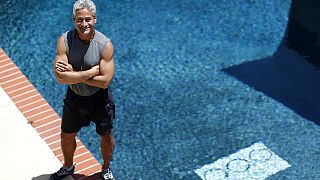 Since stepping out of the competitive pool and deciding to come out of the closet, Greg Louganis has been through troubled waters.
The American swept the diving board during the 1984 and 1988 summer games but saw his career plunge swiftly after he revealed he was gay and later his HIV status.
Greece to speak on HIV/AIDS and on the LGBT community rights.
But the American former Olympic champion has turned the tide as he told euronews Athens when visiting Greece to speak about LGBT community rights and his role as a mentor for Team USA diving.
Ioannis Karagiorgas, euronews: Greg Louganis, you are a living legend of diving, you have won five Olympic medals, four gold and one silver back in the 80's. Was it much harder then than now?
Greg Louganis: "When I won my two Olympic gold medals in 1984 and two in 1988 it was a very different (competition) schedule. When I was diving I had to work three part time jobs in order to pay for my training, pay for my living expenses. You know the sponsorship started evolving around the time towards the end of my diving career."
euronews: "Have you been to Rio? The Olympics are next year and you will work there with Team USA of diving. There are problems….
GL: "I' ve been hearing all the reports about Rio but haven't been there yet. But you know what? They say that just about every Olympic Games. "Oh are they gonna be ready" and they always seem to come together and pull it off."
euronews: Do you think that discrimination still exists in Olympics and sports in general?
GL: "The IOC, I believe last year, added sexual orientation into the principle 6 of the Olympic Charter. I think that was a great step in the right direction. There are other countries that are little behind the times, like Russia and Uganda, some problem countries. But I think all and all, in sport once you get in the playing field nobody cares."
euronews: But that wasn't the case two or three decades ago…
GL: "Back when I came out about my sexual identity and then later about my HIV status, there was still misunderstanding about sexual identity. There was a lot of miscommunication and a lot of fear surrounding HIV/AIDS. Since then there has been a lot of conversation on HIV/AIDS and a lot of education happening."
euronews: On a more personal note, you had financial troubles and were forced to sell your gold medals, so as to survive. How did you manage to bounce back from that and become an icon and the role model you are now?
GL: "You know, fortune doesn't always go with fame. So you can be famous and not so rich. I am happy, I live my life with honesty and integrity and that's the most important thing to me, beyond any of the gold medals or any awards. So, it can happen to anybody but I want to let people know that they are not alone."