IMF chief warns of weak global growth figures
Comments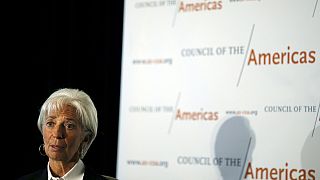 The International Monetary Fund's Managing Director Christine Lagarde has warned that global growth figures due to be announced next week will be weaker than anticipated, some of it due to the slow down in China.
Lagarde was addressing the Council of the Americas ahead of next week's IMF and World Bank annual meetings and the release of the Fund's World Economic Outlook on Tuesday.
During a speech at the prestigious council in Washington, Lagarde was also mindful of the human cost and consequences of Europe's refugee crisis.
"Besides the heartbreaking suffering from conflict and forced migration, there is a human toll from economic dislocation and low activity: More than 200 million people are actually looking for a job and declaring that they are unemployed."
While declining growth rates are likely to lead to more austerity, Lagarde did have a word of encouragement.
"My key message today – and I hope to develop that today and convince you – is this: with the right policies, with strong leadership and global cooperation more than ever before, it can be managed."
Euronews Correspondent Stefan Grobe was at the Washington event and said the following of Lagarde's address:
"Christine Lagarde gave a rather sober outlook of the global economy, with China and US monetary policy in transition. Once again, she urged all countries to speed up reform – a call that has not been sufficiently heard in the past."