Rival trials held in Russia and Ukraine
Comments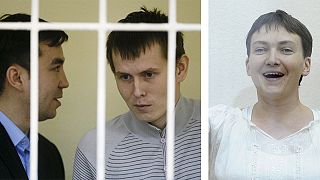 Rival court cases are being heard in Russia and Ukraine. The countries are currently divided by conflict.
Kyiv accuses two men captured in the east in May of terrorist offences, claiming they are undercover Russian special forces responsible for the deaths of Ukrainian troops in the region.
It is being claimed this is proof of Moscow's involvement in the conflict. Their custody has been extended until December.
The men say video evidence has been obtained under duress.
Speaking to reporters from behind bars in the courtroom, one of the men, Yevgeny Yerofeyev, claimed video evidence has been obtained under duress. "The prosecution cannot be based on material evidence which was obtained illegally and based on assumptions. All the material evidence was filmed without the presence of a lawyer and under pressure after I was wounded and had been operated on."
Meanwhile, in Russia, a Ukrainian military pilot faces up to 25 years in jail if found guilty of killing two journalists.
Russian prosecutors say Nadezhda Savchenko intentionally targeted civilians while attacking rebel positions in June.
She has asked for a lie detector test:"I said completely seriously that I want to give evidence with the use of a lie detector or polygraph. I have already taken a lie detector test but the results have not been presented in court. The prosecution is afraid that their false case will fall apart if the polygraph shows I am not lying."
Russian officials deny smuggling Savchenko across the border after she was captured.