Hajj tragedy possibly caused by failure to follow instructions
Comments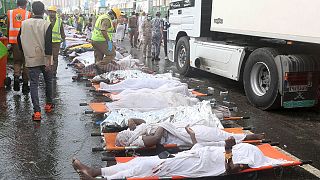 Saudi Arabia's health ministry says a deadly stampede during the Hajj religious festival may have been caused by people failing to follow authorities' instructions.
Pilgrims were on their way to the "stoning of the devil" ritual when two large groups arrived together at a crossroads outside Mecca.
Saudi King Salman has ordered a review into hajj procedures after the disaster in which more than 700 pilgrims died. About 860 others were injured.
He said "we have instructed concerned authorities to review the operations plan and to raise the level of organisation and management to ensure that the guests of God perform their rituals in comfort and ease."
A spokesman for the Saudi interior minister said the investigation would look into why unusually large groups of people congregated at the location of the disaster.
About 125 Iranians were killed in the stampede. Tehran has summoned the Saudi ambassador to lodge an official complaint over the disaster.