How well do you know the Hajj? Ten facts about Islam's annual gathering
Comments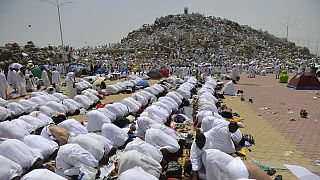 Today sees the start of the Hajj, considered to be the largest mass gathering in the world, with at least 2.6 million pilgrims expected to participate this year.
The Hajj is a pilgrimage that Muslims make to Mecca with the intention of performing religious rites as taught by the Prophet Mohammad to his followers 14 centuries ago.
Mandatory once in a lifetime for every able-bodied Muslim who can afford it, the Hajj is the fifth pillar of Islam and the most significant show of Islamic faith and unity.
Wearing simple clothes, pilgrims perform a set of rituals in and around Mecca over five to six days.
The white robes of #Hajj make all pilgrims equal http://t.co/emCktag2Z9pic.twitter.com/JB4g62OzG0

— Al Arabiya English (@AlArabiya_Eng) 22 Septembre 2015
The Hajj has drawn up to 3 million pilgrims annually, but authorities have limited numbers in the past two years because of construction work around the Grand Mosque.
Those taking part typically come from more than 180 countries.
Today Muslims are gathering for #Hajj2015. Discover the meaning behind this spiritual journey http://t.co/NeaJn6yCI0pic.twitter.com/VglaOoBywe

— British Museum (@britishmuseum) 21 Septembre 2015
Stampedes and other accidents have caused hundreds of deaths in recent decades, hence the need to increase the Grand Mosque's capacity to 2 million.
The crashing of a crane into the Grand Mosque this month killed 107 people.
The Hajj begins in the 12th month of the Islamic year (which is lunar, not solar, meaning the Hajj can fall at different times in different years.
Amid the threat of terrorism, notably from

ISIL

, Saudi authorities are reportedly deploying 100,000 security personnel for this year's pilgrimage.
After a recent surge in cases of the sometimes deadly Middle East Respiratory Syndrome (

MERS

), authorities have brought an extra 25,000 medical staff into Mecca for the Hajj season.
For the sixth year, the World Health Organisation is supporting the Saudi government in its health preparations for the Hajj.
Months of health preparations in place as #Hajj pilgrimage begins #SaudiArabiahttp://t.co/r5EVIh8snK via @WHOEMROpic.twitter.com/bQQSLSxmYR

— WHO (@WHO) 21 Septembre 2015