Pope Francis prays for the victims of the Hajj tragedy
Comments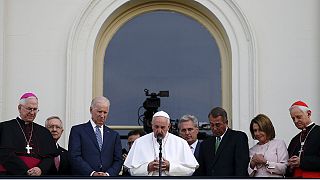 They turned out in their thousands in the Big Apple to applaud Pope Francis on his first official visit as Pontiff to New York.
His presence in the US has drawn huge crowds as he seeks to bring Catholics back to the Church with a more inclusive message.
He had come to New York after addressing a special joint session of Congress where his message included a renewed call for the ending of the death penalty.
At an evening prayer service in New York's St Patrick's Cathedral and with the mayor in the congregation he expressed his solidarity with Muslims following the deaths in the hajj crush.
"My sentiments of closeness in the face of tragedy. The tragedy they suffered in Mecca," he said.
The warmth of his reception in the US was again on show in the Cathedral. The 78-year-old Argentine pontiff is set to address the United Nations General Assembly on Friday morning.