New InfoAid app makes life easier for modern-day migrants
Comments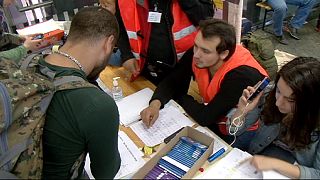 Modern technology is a must for today's migrants
In Vienna, free WiFi and SIM cards, courtesy of several businesses, have helped refugees equipped with smartphones to navigate their route, glean vital information and keep in touch with home.
"I am talking with my family on WhatsApp about traffic and problems on the street and on borders," said Syrian refugee Khaled Aloosh.
Hence the value of a new made-to-measure app for those crossing continents.
InfoAid provides multilingual practical advice for the long journey and crisis management. It is the brainchild of a Hungarian couple unhappy at the information being provided by authorities there.
Hungary activists race to help migrants by smartphone http://t.co/ig0qLNeZhNpic.twitter.com/UwmFwUqMAI

— Agence France-Presse (@AFP) 19 Septembre 2015
Nina Kov, one half of the partnership, said: "In one case at Keleti Railway Station in Budapest, we showed the app to refugees, and that is how they found out that Germany was imposing controls. They learnt this from us first, because they could see it translated into their own languages."
The app, already downloaded thousands of times, even covers the risks of consuming poisonous mushrooms – a hazard that has had tragic consequences for desperate migrants foraging for food.
Our special correspondent in Hungary, Nora Shenouda, says:
"The smartphone is not merely an expensive accessory for refugees. The information it provides does not just save them time and money. It can also save lives."