Egypt pardons 100 prisoners including three journalists
Comments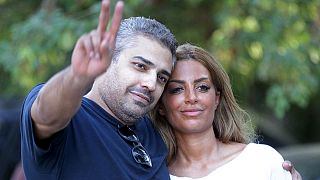 Egyptian President Abdul Fattah al-Sisi has pardoned 100 prisoners, including three Al-Jazerra journalists.
All 3 Al Jazeera journalists are now free! #MohamedFahmy & Baher Mohamed were released today in #Egypt. #FreeAJStaffpic.twitter.com/jCusHc9lDi

— AmnestyInternational (@amnesty) September 23, 2015
Canadian Mohammed Fahmy, Egyptian Baher Mohammed and Australian Peter Greste were sentenced to three years in jail last month after a retrial.
Peter Gretse is already back home having been deported in February.
FAQ: The Al Jazeera trial in Egypt http://t.co/Um6RRXiuIEpic.twitter.com/a0qcdj1vn4

— Al Jazeera English (@AJEnglish) September 23, 2015
Mohammed Fahmy spoke after his release:
"I will continue fighting for press freedom. I have been working on a charter in the prison cell to introduce to the Egyptian journalism syndicate and to the presidency in Egypt to improve press freedoms for both, Egyptian journalists and foreign journalists working in Egypt."
The three men were accused of operating without a press license and broadcasting material harmful to Egypt.
Egypt president Abdel Fatta al-Sisi 'pardons 100 prisoners, including... http://t.co/mLIhebL6uypic.twitter.com/PWrl16lLsG

— 1001pts Australia (@1001ptsAU) September 23, 2015
The pardons come as President Abdul Fattah al-Sisi prepares to attend the UN summit of world leaders.
Two Al-Jazeera journalists pardoned by Egypt's Sisi are freed http://t.co/LQiBIzKioKpic.twitter.com/wVZppMggxW

— DAILY SABAH (@DailySabah) September 23, 2015