Pope Francis visits holy shrine on last full day in Cuba
Comments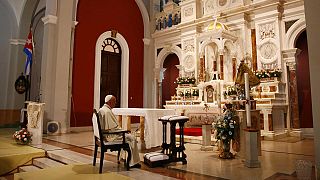 Pope Francis ended his last full day in Cuba at the country's holiest shrine, the Virgin of Charity of El Cobre, outside the island's second-largest city Santiago.
The sanctuary houses a wooden statue of the Madonna and Child, which holds deep importance for many Cubans.
Revolutionary former President Fidel Castro was in Santiago in 1959 when he announced his forces had ousted the US-backed government of Fulgencio Batista.
But the agenda on Monday (September 21) was strictly religious.
Catholic Aida Suarez Romero, said she was thrilled with the pontiff's visit:
"He's a person who is very good, very caring, very charismatic… and we've dedicated the heart of the El Cobre to him."
With around 75 percent of Cuba living through the most severe drought in 115 years, some thanked Latin America's first pope for appearing to bring rain to Santiago.
"The drought has been a big problem. But well, it seems as though the pope has brought something good with him for the people here."
Pope Francis will move on to the United States later today, where he will remain until Monday.
He has been widely praised for supporting negotiations that led to the restoration of diplomatic ties between Havana and Washington.
Francis has called on both Cuba and the US to "persevere on the path" of reconciliation.