Japan look for second Rugby World Cup win in their match against Scotland
Comments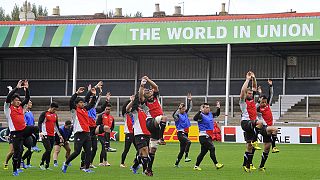 Japan's shock victory over South Africa in the Rugby World Cup has put a smile on the faces of the players and a spring in their steps.
The squad held its final training session ahead of their next game against Scotland on Wednesday.
The coach has made six changes to his starting line for the match which he hopes will show Japan are not a "one hit wonder".
"You know people still think it was a fluke we beat South Africa so this is a great chance to show that it wasn't and that we can really front up as a serious rugby nation. You know, as Scotland is coming into it in a perfect preparation. They've probably had two and a half weeks since their last game, they'll come in absolutely 100 percent," Eddie Jones told reporters.
The Scottish coaches have admitted Japan's win over the Springboks have left them with a few sleepless nights for what will be their first match of the tournament.
The Scots have won all four of the previous meetings between the two sides. The most recent was a crushing 42-17 points victory.
But Japan have now leapfrogged the 12th-placed Scots in the official rankings after moving up to 11th.