Award-winning 'Game of Thrones' makes history at the Emmys
Comments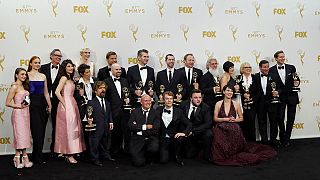 'Game of Thrones' was the big winner at the Emmy Awards in Los Angeles on Sunday.
HBO's medieval fantasy series scooped the all-important best drama prize and beat records by winning a total of 12 Emmy accolades this year.
Despite the saga's huge fan base, the biggest award in the TV industry has been a long-time coming for 'Game of Thrones', based on George R.R. Martin's books about blood-thirsty nobles and warring kingdoms.
It has also been a long wait for the first African-American to win the prize for best lead actress in a drama series.
But on Sunday Viola Davis broke new ground, taking the Emmy for her role as a tough criminal defence lawyer in 'How to Get Away With Murder'.
"The only thing that separates women of colour from anyone else is opportunity," Davis said in an emotional acceptance speech.
"You cannot win an Emmy for roles that are simply not there."
Davis thanked all the writers and producers "who have redefined what it means to be beautiful, to be sexy, to be a leading woman, to be black".
"You cannot win an Emmy for roles that are simply not there." @violadavis gave the most powerful acceptance speech: http://t.co/oGbTLlL6zB

— Vogue Magazine (@voguemagazine) 21 Septembre 2015
Among other winners, actor Jon Hamm finally snared an Emmy for his lead role in 'Mad Men' – so delighted to have won after seven previous nominations that he clambered directly onto the stage, winning a standing ovation from the audience.
Jon Hamm Talks Emmy Stage Climb: "I Was Mortified" http://t.co/r7NfaEOz9epic.twitter.com/T0Dxrz9A3V

— Hollywood Reporter (@THR) 21 Septembre 2015
Hamm, who plays advertising genius Don Draper in the1960s era show, joked:
"There's been a terrible mistake clearly," adding, "it's incredible and impossible for me to be standing here."