Nepal set to declare LGBT-friendly constitution
Comments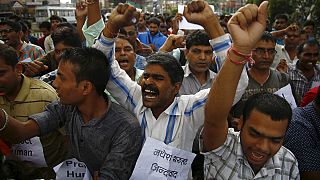 Nepal's constitution is set to be formally declared by President Ram Baran Yadav at a ceremony on Sunday (September 20).
The new charter, which was approved by the Constituent Assembly on Wednesday (September 16) after years of delays and differences between political parties, includes discrimination protections for LGBT (lesbian, gay, bisexual, transgender) people.
"This is a momentous step forward for LGBT equality in Nepal. The nation's leadership has affirmed that its LGBT citizens deserve the constitutional right to live their lives free from discrimination and fear," said Ty Cobb, Director of Human Rights Campaign Global.
"We congratulate LGBT Nepalis and their allies for this historic victory, and hope to see other nations across Asia and the globe take similar steps to ensure full legal equality for their LGBT citizens."
#Nepal ratifies new Constitution includes #LGBT rights http://t.co/RFEryICyie

— Naomi Burke-Shyne (@NaomiSBS) September 19, 2015
Hundreds of demonstrators marched through Kathmandu on Saturday protesting against Nepal's new constitution which retains its status as a secular nation rather than a Hindu one.
Many Hindus fear that will intensify efforts by other religious groups, such as evangelising Christians, to convert them. Hindus number about 81 percent in Nepal, Christians under two percent.
Twin earthquakes in Nepal this year that killed 8,900 people united most parties and advanced proceedings.
Assembly members burst into applause after the announcement was made.
Hindu activists had rallied in Kathmandu on Monday demanding Nepal to be declared a Hindu state.
Huge crowds marching towards a restricted area near the parliament were dispersed by police.
نیپالی آئین کی مخالفت کرنے والے مظاہرین پر نرمی برتنے کی امریکی اپیل http://t.co/JWTau9wiBbpic.twitter.com/dl9xpmqoer— News18 اردو (@News18Urdu) September 15, 2015