'First arrests made' as Hungary cracks down on immigration
Comments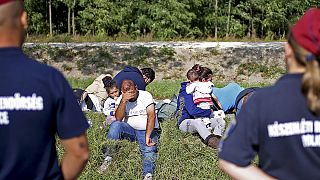 Tough, new laws have come into effect giving police in Hungary the authority to arrest and charge migrants attempting to enter the country illegally.
The crackdown follows the completion of a razor-wire fence, which aims to seal off the border with Serbia.
Reports suggest at least 16 people have already been arrested and the number is expected to rise.
Hundreds spent the night (September 14) sleeping rough on the border after a record day of migrant crossings. According to police, some 9,380 people were rounded up as they attempted to enter Hungary on Monday.
Government spokesman Zoltán Kovács said it was time to "re-establish Europe's ability to protect its borders."
Budapest says people will still be able to claim asylum at two official border crossings. However, if they have entered from Serbia and not applied for asylum there, they face being expelled from Hungary within eight days of arrival.
Police officers stopped some people believed to be considering climbing over the 3.5-metre metal fence and directed them to the official border crossing.
For many, Hungary is not their end goal. They attempt to enter the country illegally so that they can use their asylum application at a later point, in another European Union country.