Hungary seals border with razor wire
Comments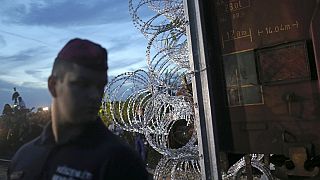 Hungary has sealed its border with Serbia.
A razor wire fence was moved into position around 1am CET.
#Europe: Barbed wire gate at the train track. A fence is not a solution for a #refugeecrisis#Hungarypic.twitter.com/mIonsfAgaA

— Babar Baloch (@BabarBloch) September 14, 2015
A railway line, also used as a crossing point, has also been blocked off.
Hungary shuts migrant fence as EU border system creaks http://t.co/EBSBovKpMYpic.twitter.com/v0RojVLrf6

— Agence France-Presse (@AFP) September 14, 2015
Zoltán Kovács is spokesperson for the Hungarian government: "Today we have witnessed an all time peak in terms of illegal border crossing, the real number is going to be close to 10,000 in just one day. It is obvious and this is the Hungarian position that it is to re-establish Europe's ability to protect it's borders."
Hungary, much criticised for its attitude to asylum seekers, is to introduce tougher measures later on Tuesday including plans to arrest illegal immigrants.
Prime Minister Viktor Orban has hinted he may announce a state of emergency in Hungary's border regions.