Hungary's new laws, razor fence to sharpen refugee control
Comments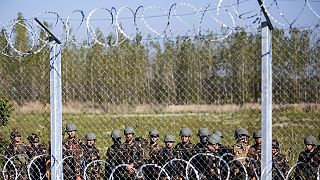 Hungarian troops have been preparing to help enforce new laws aimed at securing the Serbian border. The soldiers will backstop the new fence Hungary has built along it.
These makeshift rules would not pass a human rights test.
They are equipped with anti-riot gear and rifles, although Prime Minister Viktor Orban said last week that "no use of arms will be necessary."
This Tuesday the new legislation enters force, making anyone entering Hungary illegally subject to a three-year prison sentence.
Climbing or damaging the fence is also punishable; more severe measures are provided for against smugglers or anyone bearing arms.
People must apply for asylum before entering Hungary, in Serbia, which, according to the Hungarian government, is a safe country.
Since this implies that applicants' lives are not in immediate danger, anyone could be kept in Serbia or sent back there. Claims are supposed to be judged by the Hungarian courts within ten days.
Our Budapest correspondent Gábor Tanács found the capital unresponsive to questions on where the border could be crossed.
Government spokesman Zoltán Kovács said: "First we have to handle a fundamental question, that the European Union should be able to manage its own borders. It should be able to prevent people from entering through the natural greenery, to direct people to the official border stations where they should apply for asylum."
People charged with illegal border crossing will not be entitled to a language interpreter, and no special procedure is provided for minors.
The army may use tear gas and water cannon.
Critics say the rules are not clear on non-lethal use of firearms.
Co-chair of the Hungarian Helsinki Committee Marta Pardavi said: "From a legal point of view, these makeshift rules carry so many risks of breaching human rights that they would not pass a human rights forum test."
As refugees warned of the crackdown have rushed to get in, Hungary has promised to meet both border security and humanitarian obligations.