Germany and Austria beef up border checks
Comments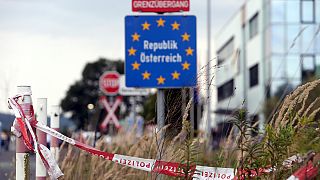 Austrian authorities have followed Germany's lead and imposed additional border checks on its eastern border.
Train services from Hungary via Austria to Munich are suffering long delays as border guards carry out checks.
Hundreds of asylum seekers are being housed in an underground car park at Saltzburg station.
Volunteers have bottles of fresh water ready for the refugees welcomed at the train station in #Salzberg, #Austriapic.twitter.com/jxYdgEGSQG

— Elsir Majid (@XeerSaeed) 8 Septembre 2015
A police spokesperson said 12,500 people have arrived in Austria since midnight on Sunday.
Some 200 migrants arrived at Passau station, one of dozens such trains today. Syrians, Iraqis, Pakistanis & Iranians. pic.twitter.com/9wSSA29Fw7

— Frank Jordans (@wirereporter) September 14, 2015
All land routes into Germany are now being controlled by authorities with the Schengen system suspended in order to control the unprecedented flow of asylum seekers.
Flüchtlinge & Gäste: im Grandhotel das Beste In A nennen sie´s Cosmopolis @PeterPlener: Emergenz hier: o. Konkurrenz pic.twitter.com/MfTKYcIuHm

— Letnapark (@Letnapark) August 30, 2015
Despite the increased security a warm welcome still exists, at the Grandhotel Cosmopolis in Augsburg tourists and refugees share accommodation and chores.