Thousands flee the flames as northern California battles wildfires
Comments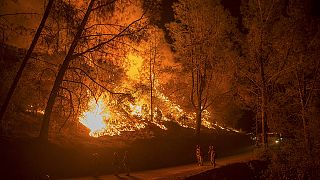 Northern California continues to be consumed by wildfires.
Valley fire: Residents of Middletown tell harrowing survival tales http://t.co/THuZsYx9sqpic.twitter.com/JuGSWUeQY2

— Los Angeles Times (@latimes) September 13, 2015
Hundreds of homes and buildings in Middletown and nearby villages have been destroyed as the fires rage through neighbourhoods.
The governor of California, Jerry Brown, has declared a state of emergency in the Napa and Lake communities.
Middletown devastated by #ValleyFire; unknown number of homes, structures lost http://t.co/gSrDZijX3vpic.twitter.com/whoQvVAR8U

— KTLA (@KTLA) September 13, 2015
Hundreds more towns and villages are under threat.
Thousands of people have been forced to flee the flames.
The extreme nature of the wildfires is being blamed on high temperatures and years of drought.