Munich train station filled to capacity by transiting migrants
Comments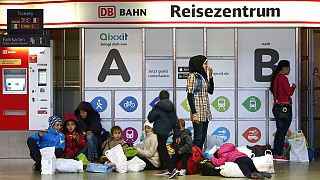 Munich railway station has until now been the terminus for migrants and refugees making their way to Germany, From here they are bussed or take trains to other states outside Bavaria, but with 12,000 people arriving in one go on Saturday, the biggest one-day influx so far, Munich is full.
The Germans from now on will send trains further north to a new terminus.
"We aim to distribute as many migrants as possible, who arrived yesterday, so that they go to other states or cities within Bavaria, depending on free capacities. We want to free up capacity here in order to be able to host the migrants at least for a night," said Munich police spokesman Werner Kraus.
Many are sleeping on the station floor even if a lot of effort is being made to find people beds as quickly as possible. After the disorder of the last few months for these travellers, German organisation, even if stretched, is most welcome.