Germany: expected surge in migrants from Hungary doesn't materialise
Comments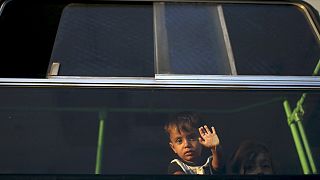 Migrants and refugees have been continuing to stream into Germany. More than nine-thousand arrived at Munich's rail station on Saturday.
But police say there has been no sign of an expected influx of 40-thousand from Hungary.
In Austria, around 700 migrants and refugees arrived on buses from the border with Hungary. They were greeted by aid workers from the Christian charity Caritas and given food and water.
"The life is impossible there especially in my city Aleppo. No electricity for three years. No water for three years. We have to take water from wells, you know," said Saleem, a Syrian refugee.
"And there is no internet, no connection, no anything. No life."
Mohammed, Iraqi refugee, commented: "I left Iraq because the situation is so bad there, because of the war. Finding a job was very difficult.
"The radicals took a big part of Iraq, that's why we decided to take the risk of coming to Germany and other countries, to get refugee status."
Meanwhile on the Greek island of Lesbos, scores of newly-arrived migrants queued to get temporary registration papers – to keep moving northward to central Europe.
Authorities have been fast-tracking people off Lesbos, after a sharp increase in arrivals and slow processing threatened to overwhelm the local population.
In Sicily, a French naval vessel brought around 140 migrants ashore. They were rescued from an overcrowded boat that was adrift around 100 kilometres off the coast.
A record number of people have crossed the Mediterranean this year, fleeing war and poverty.