Hungary deploys thousands of soldiers to border with Serbia
Comments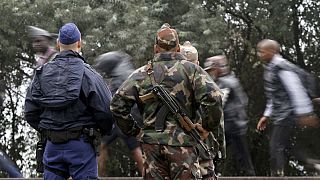 Nearly four-thousand soldiers have been deployed to Hungary's border with Serbia to help police, amid a continued influx of migrants.
The military forces are being sent to posts along the 170 kilometre-long stretch.
Viktor Orban's government is vowing to clamp down on illegal border crossings under new laws coming into force on Tuesday and is racing to complete a fence along the border with Serbia.
Orban has also vowed that any "rebellious" migrants will be arrested.
His words came after an online video emerged of crowds clamouring for food in a border camp, as police in surgical masks tossed them packs of sandwiches.
Orban has praised police, saying they are doing a "remarkable" job.
Scores of migrants continue to travel to Hungary. Many want to transit through the country to western and northern Europe.