French consul in Turkey suspended for boat sales to migrants
Comments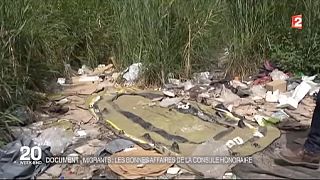 A French reporter looking for the source of boats used by refugees to get to Europe from Turkey followed the trail to a shop belonging to the French honorary consul in the port town of Bodrum.
Footage from France 2 showed Francoise Olcay selling the rubber boats and lifejackets from her shop which had a French flag and a 'consular agency of France' sign hanging outside. She has now been suspended.
In the video she admits to taking part in selling the goods, but also implicates local Turkish authorities and says that if she didn't sell them, they would be bought elsewhere.
Bodrum has become a portal to Europe to thousands of refugees. It was along this coastline that three-year-old Aylan Kurdi drowned along with his mother and brother and nine other Syrians when their boat capsized as they headed for Greece.