Hungary considers "state of crisis" over mass migration
Comments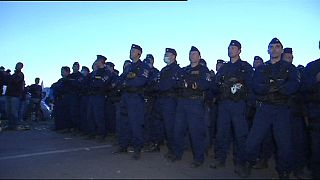 Hungary is considering declaring a "state of crisis" next week as the government prepares to crackdown on migrants and refugees streaming through the Balkans.
With more than 3,000 people registered as entering from Serbia on Wednesday alone, Hungary says it now plans to introduce "different rules of the game", with penalties for illegal entry, accelerated asylum procedures and possible expulsion.
Next week parliament will consider other measures including sending the army to the border.
For now though, others in Hungary are more concerned about ensuring the most needy receive some care and attention.
"I want them to feel that people here are not all hostile and unwelcoming and I wanna make sure that they don't hate Hungarians or all Hungarians," said one volunteer at Budapest's Keleti rail station.
Meanwhile, the building of Hungary's border fence has picked up pace. Aided by prisoners the 175-km barrier is now expected to be completed by the beginning rather than the end of October.