Dinghies packed with migrants continue to arrive on Lesbos
Comments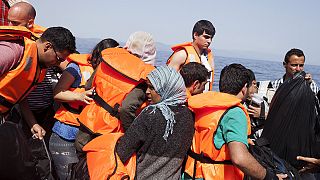 Migrants are continuing to arrive on the Greek island of Lesbos, which has been overwhelmed with people making it to its shores.
Aid agencies estimate that more than two-thousand people have arrived daily this month.
For those making it to European soil from Turkey, volunteers are on hand to help them.
"I feel so happy… I like Greece," said one Syrian migrant, who made it to Lesbos.
The Greek government's chartered ships to help relieve the situation on Lesbos.
Around 13-thousand people were ferried to the Greek mainland between Monday and Thursday morning, according to the UN's refugee agency.
The vast majority want to travel into northern Europe and, once disembarked, almost immediately head off in that direction – creating a bottleneck at the border with the former Yugoslav Republic of Macedonia.