Hungary: PM Orban praises 'excellent job' of police at migrant camp
Comments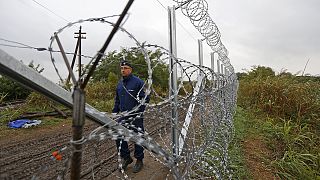 As expected, Hungarian Prime Minister Viktor Orban made a public statement in response to controversial images appearing to show chaos at a migrant camp in the country.
The leader came out in support of the police force and reinforced the government's stance on illegal entry into Hungary, which is a key transit country for migrants and refugees trying to move further into the European Union.
"We are talking about people who refuse to cooperate with the Hungarian authorities," said Orban. "What's more, they attack them and throw objects at them. Considering that we're faced with a rebellion by illegal migrants, the police have done an excellent job without resorting to the use of force.
"From September 15, Hungarian authorities will not be forgiving when it comes to illegal border crossings."
Hungary is rushing to finish building a fence along its border with Serbia, to replace a temporary barrier aimed at stemming the influx of migrants.
Hungarian prisoners and soldiers are working on the new fence. Being built at a rate of around ten kilometres per day, the 175-km barricade is scheduled to be completed by the end of October, 2015, at the latest.