Venezuela opposition leader Leopoldo Lopez sentenced to nearly 14 years
Comments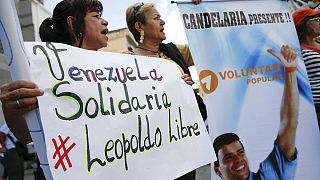 Venezuelan opposition leader Leopoldo Lopez has been sentenced to nearly 14 years in jail. The court found him guilty of inciting violence during anti-government street protests in 2014 in which more than 40 people were killed.
Outside the Palace of Justice supporters broke down in tears, expressing their disbelief at the sentence.
His wife, Lilian Tintori, kept a positive outlook for their two children saying, "They must be very proud of their father: that's what I'm going to tell Manuela and Leopoldo Santiago. The most noble struggle a man can undertake is the struggle for freedom, for justice, the rights of his people. And that's what Leopoldo is doing."
T VoluntadPopular</a> "<a href="https://twitter.com/leopoldolopez">LeopoldoLopez call to all #Venezuela is for CALM & PEACE, justice WILL arrive" LilianTintori</a> <a href="http://t.co/QaCgWpCF4c">pic.twitter.com/QaCgWpCF4c</a></p>&mdash; John Suarez ن (johnjsuarez) September 11, 2015
Lopez's legal team plans to appeal, while opposition parties are focusing on December elections as a possible way to overturn the ruling.
"Thirteen years is a long time but 87 days go by quickly," remarked opposition coalition leader Jesus Torrealba. "In 87 days, we can have a National Assembly that approves the Law of Amnesty and Reconciliation that puts Leopoldo Lopez out on the street by the sovereign decision of the Venezuelan people."
The December 6 election was one of the key demands of Lopez before he ended a 30-day hunger strike in June.
The trial highlighted Venezuela's deep political divide. Before the verdict was read out, one man died and several were injured as clashes erupted between pro-government activists and Lopez's supporters outside the courthouse.
#Venezuela Jails Opposition Leader leopoldolopez</a> for 14 Years <a href="http://t.co/mAF1DdCPhk">http://t.co/mAF1DdCPhk</a> <a href="http://t.co/glJPLwxcdp">pic.twitter.com/glJPLwxcdp</a></p>&mdash; LatAm Herald Tribune (LAHT) September 11, 2015
Lopez was ordered to return to the military jail where he has been held since February 2014. At the time of the anti-government protests he was already behind bars, and had publicly appealed for peaceful resistance to Maduro's government. However, prosecutors argued his speeches sent subliminal messaged and constituted a call to violence.
His supporters believe he is an innocent scapegoat, however, his critics see the US-educated activist as a dangerous radical in the pocket of the wealthy elite and the US administration.
The US Assistant Secretary of State Roberta Jacobson said she was 'deeply troubled' by the verdict. America had been pressing for his release.