Tens of thousands stranded after Japan floods
Comments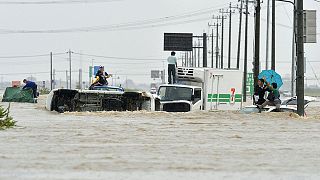 One person is missing after days of heavy rain in Japan. Tens of thousands are stranded after river banks burst in cities north of Tokyo.
National broadcaster NHK said more than 500 millimetres of rain fell in the last 24 hours. That is double the amount that usually falls in the region for all of September.
Japanese prime minister Shinzo Abe warned of more "unprecedented heavy rains."
"There is concern that the region will see unprecedented heavy rains. The government will work as one to prioritise the safety of the people and do our best to prevent any further disaster," said Abe.
Landslides were triggered by the rain in mountainous areas.
Many were trapped on roofs of their homes. At least one woman was reported missing after her house collapsed in a mudslide.
Ninety thousand people have been evacuated to safety, and those numbers are expected to increase.