French director Bertrand Tavernier awarded Golden Lion for Lifetime Achievement
Comments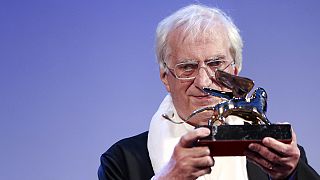 French director Bertrand Tavernier was awarded a Golden Lion for Lifetime Achievement at the Venice Film Festival on Tuesday (September 8).
Receiving the prize, Tavernier was joined on stage by French actress Sabine Azema.
Tavernier, 74, has clocked up 40 years as a director, screenwriter, actor and producer. He is best known for his films "A Sunday in the Country" and "Round Midnight," and, more recently, "The Princess of Montpensier, which competed for the Palme d'Or at the 2010 Cannes Film Festival.
Tavernier had two films run in competition at Venice, the world's oldest film festival: "Round Midnight" in 1986 and detective movie "L. 627" in 1992.