International Space Station gets a new commander - and a delivery of Lego
Comments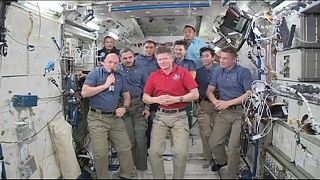 It is all change at the International Space Station.
Three new crew members have arrived and veteran Russian cosmonaut Gennady Padalka, who is soon to leave after a record-breaking stint in space, has handed over command to American Scott Kelly.
"I assume command of the International Space Station, a great ship and one that not only serves us very well, but serves our various countries well," Kelly said at an informal handover ceremony on the $100 billion space laboratory.
Cosmonaut Gennady Padalka hands @Space_Station command to @StationCDRKelly who will lead orbital lab till March. pic.twitter.com/TmUlUk66e8

— Intl. Space Station (@Space_Station) September 5, 2015
The Soyuz spaceship carrying the new kids on the block safely docked on Friday. The trio are Russian Sergei Volkov, Kazakh Aidyn Aimbetov and Denmark's first man in space, Andreas Mogensen.
Mogensen, dubbed "Denmark's Gagarin" after the Soviet cosmonaut and first man in space, Yuri Gagarin, took Danish-made exercise bikes and 20 of Danish toymaker LEGO's plastic figures into orbit.
Mogensen and Aimbetov, Kazakhstan's third cosmonaut, are due to return to Earth on September 12 together with Gennady Padalka, who has been working aboard the ISS since March.
By then, Padalka will have racked up a total of 878 days in space, more than any other person.