Migrants storm Budapest's main railway station
Comments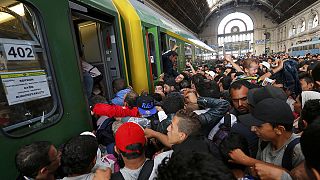 More than a thousand migrants stormed the main railway station of the Hungarian capital Budapest on Thursday, after spending two nights outside as police blocked the entry.
Reuters reported that some migrants stormed a train as police finally withdrew.
Many tried to push themselves and their children onto the train through doors and windows, causing scenes of chaos across the station, the news agency reported.
But Hungary's railway operator said no direct trains were heading to Western Europe for the time being.
Hungary has been struggling to push back an unprecedented wave of refugees coming from war torn countries like Syria and Iraq but also migrants from Africa and the Balkans.
Hungary has been building a fence along its border with Serbia to try to keep them from entering. But most are desperate to reach Western Europe, through this route but also via the Mediterranean, and more than 2,500 have died on the way so far this year.