Iceland: thousands sign petition urging government to accept more refugees
Comments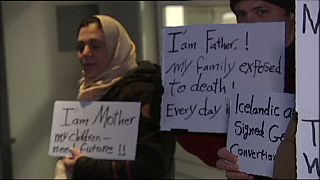 While Europe struggles to manage the largest wave of migration since the end of the Second World War, the tiny island nation of Iceland has stepped forward with a positive response.
We want people to get into Icelandic society.
12,000 islanders have signed up to a Facebook campaign urging the government to take in more refugees.
Some have even offered accommodation in their own homes.
Government ministers are to investigate Iceland's resources to see how many migrants could be taken.
"Lots of people are encouraging us to take more. I am very optimistic. We don't plan to build new refugee camps. We want people to get into Icelandic society. They get jobs, they get housing, their children are in our schools and get invited to birthday parties."
said Welfare Minister Eygló Harðardóttir.
Iceland's refugee history
Iceland has an isolated position in the North Atlantic. Greenland is its closest neighbour.
It has accepted 39 refugees in the past five years, 13 of them from Syria.
A total of 51 have been taken in since 1956.
The Facebook page recalls an incident in 1973 when Iceland absorbed 4,000 people from the tiny Westman Islands close by after a sudden eruption from Eldfell volcano.