Treasure hunters go searching for Nazi guns and gold
Comments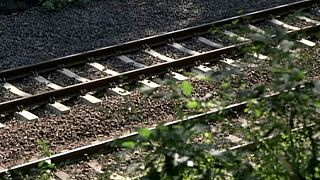 A southern Polish city is looking to profit from a missing Nazi train rumoured to be loaded with guns and jewels.
Treasure hunters have been beating a path to Walbrzych since last week when photographs using ground-penetrating radar confirmed its existence around Ksiaz Castle.
Ed White, journalist for British newspaper 'Daily Mail' is hoping to strike it lucky: "It has all the elements of a good thriller, because it's adventure. You've got gold, hidden trains, Nazis, you know, all the ingredients are there."
Although authorities initially urged World War Two enthusiasts and foragers to keep away, they are now trying to entice them to visit the city and join the hunt.
Anna Zabska from the Old Mine Science and Art Musuem said: "The gold rush that spread led us to organise an advertising campaign. Together with the Ksiaz Castle, the Old Mine Science and Art Center in Walbrzych created a golden package and changed the city name to WAUbrzych spelled with Au – the [chemical] symbol of gold."
According to local folklore, the train entered a tunnel and never emerged.
The big problem remains how to get to the vehicle as it is highly likely that mines around the site are still primed to explode.