Palestinians and Israeli soldier wounded during West Bank raid
Comments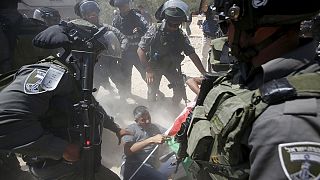 At least five Palestinians and an Israeli soldier have been hurt during a raid in the occupied West Bank.
It is thought Israeli forces were carrying out an operation to arrest Islamist militants. The Israeli army, however, has not given any details of the raid or of casualties.
According to local residents in Jenin, heavy gunfire broke out in fighting between the troops and Hams and Islamic Jihad fighters.
Israeli troops frequently enter Palestinian controlled territory to detain people suspected of military activity.
Palestinian medical sources say the five wounded suffered injuries from rubber bullets.