Syria: Ceasefire breaks down in three strategic towns
Comments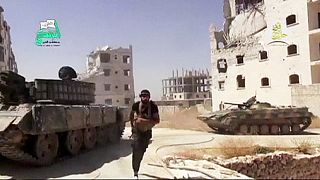 Fighting is said to have resumed in three key Syrian towns at the end of a 48-hour ceasefire.
Reports of the breakdown, from the Syrian Observatory for Human Rights monitoring group, shatter hopes of extending the truce, to allow food and medical supplies in.
An earlier ceasefire this month in the rebel stronghold of Zabadani – close to the capital Damascus and the Lebanese border – and the two small, government-held Shi'ite towns of Foua and Kefraya in Idlib province was also short lived.
Amid the chaos of Syria's civil war, the army and its allies in the Lebanese militant group Hezbollah have been attacking Zabadani while insurgents have besieged the two other strategic towns.
Local ceasefires in Syria's four-year conflict have tended to be fragile, and UN attempts to forge larger truces in other parts of the country, notably in the northern city of Aleppo, have come to nothing.