Greek caretaker government sworn in ahead of early elections
Comments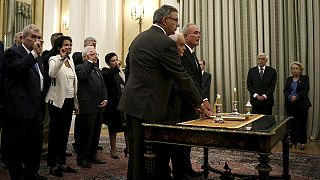 The new Greek caretaker government has been sworn in as the country prepares for early elections next month: the third time it has gone to the polls this year.
Top Supreme Court judge Vassiliki Thanou was appointed caretaker prime minister this week after Alexis Tsipras resigned to seek a new mandate.
Deep rifts remain in his party over the international bailout package.
One minister who was in the previous government said it would be business as usual.
"We have a lot to do regarding tax declarations and controls. The finance ministry doesn't stop working," said Deputy Finance Minister Trifon Alexiadis.
But there is uncertainty over whether some senior figures will run for Syriza.
Others have split to form their own party.
Meanwhile Greece continues to be in the front line of Europe's migration crisis.
Coastguards revealed that another 1,600 had been rescued making their way to Greek islands near Turkey over the past three days.
"It's a priority for us to continue the European policy and go on with what President Pavlopoulos wants which is a summit. Because if the problem is not treated as an international one, it won't be solved," said the Greek Deputy Minister for Migration Policy, Ioannis Mouzalas.
The first opinion polls since Tsipras' resignation suggest his leftist Syriza may be the biggest party after the election, but without a majority.
Euronews correspondent Efi Koutsokosta reported from Athens:
"A few hours before the election campaign officially starts, the political parties seem fragmented. The main issue at the heart of the pre-election debate will definitely be the third bailout programme as the next government will have to implement unpopular measures and difficult reforms which, on the other hand, are considered necessary for Greece to get the sufficient amount of money to finance the economy."