Migrants: Hungary to reinforce border with Serbia
Comments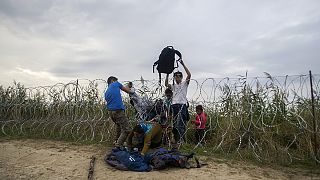 Record numbers of migrants are crossing the border from Serbia into Hungary.
They are adamant their ultimate destination is Germany.
Budapest is making plans to increase reinforcement of its southern border to cope with the surging numbers.
A barricade of razor-wire is already in place.
Unrest flared briefly in the border region of Roszke. Tear gas was fired by police.
1,300 were detained on Wednesday morning alone.
Merkel heckled in Germany
The German Chancellor was heckled by demonstrators as she visited Heidenau.
Violent anti-immigrant protests erupted in the eastern town at the weekend.
Ignoring banners accusing her of betraying her people, Angela Merkel declared xenophobia will not be tolerated.