Heading north: The Long Journey Part 3
Comments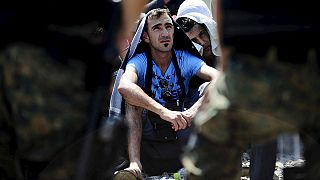 The UN refugee agency (UNHCR) is expecting 3,000 people a day to cross into the Former Yugoslav Republic of Macedonia.
The Macedonian government came under fire over the weekend for its handling of the large influx of people looking to cross its border from Greece.
Police at the frontier used batons and stun grenades to push the migrants and refugees back from Macedonian territory.
"The UN refugee agency estimates that 80 percent of people waiting to cross the Greek-Macedonian border are fleeing the conflict in Syria," reported euronews correspondent James Franey. "Police are allowing between 150 and 300 to cross at time. They then follow this railway track north to the town of Gevgelja where they look to move on to Serbia and Hungary and then to northern Europe as they look to build better lives."
After weekend 'chaos,' UNHCR assists #refugees at Macedonia and Greece border http://t.co/w2SMtSxTvTpic.twitter.com/ra8bnXifG9

— Brendan McDonald (@7piliers) August 25, 2015
Many at a refugee transit centre in Gevgelja said they had made the treacherous crossing from Turkey to Greece using small inflatable boats.
Euronews spoke with Red Cross paramedic Aleksandar Januzoski about the health conditions affecting those in the centre.
"You have people that have small fractures to people that have blisters on their feet – cuts of different kinds – to graver situations in that you have people with epilepsy, high or low blood sugar and people with heart problems and different diseases on the respiratory tract," said Januzoski.
Most people interviewed by Euronews said they wanted to head to Germany or Sweden to join relatives and friends in search of work and security.
We've set up a child-friendly space for children on the move through #Macedonia: http://t.co/9In1wLuhA6UNICEFMK</a> <a href="http://t.co/czyxXLaAMo">pic.twitter.com/czyxXLaAMo</a></p>&mdash; UNICEF (UNICEF) August 25, 2015
13 heartbreaking photos of the migrant children trapped in Macedonian no-mans-land http://t.co/BdWCwPsK7npic.twitter.com/mlGcUjuFkI

— The Independent (@Independent) August 22, 2015