EU leaders discuss migrant crisis in western Balkan summit
Comments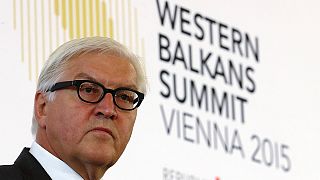 EU leaders are gathering in the Austrian capital Vienna to discuss how to deal with the influx of migrants to the region.
About 100,000 people, many of them from Syria and other conflict zones in the Middle East, have entered Serbia alone this year on their way through the western Balkans.
The German Chancellor Angela Merkel said EU countries must act together to ease the situation.
"We have the highest number of refugees in the world now since the second world war. We in Europe have succeeded in living together in peace, and we have also made the peace process with the countries of the western Balkans irreversible," said Merkel.
"It is our duty now, to – on the one hand – make sure, that peace is becoming a reality again in the respective regions, but against the background of our own history, it is also important to help those people, whose lives are threatened and to give them help and protection," she added.
With thousands more migrants trying to reach Europe via the Mediterranean, it is thought EU leaders will push for enlarged quotas to ensure support in countries taking in the bulk of migrants.