Colorado cinema gunman gets 12 life sentences plus 3,318 years
Comments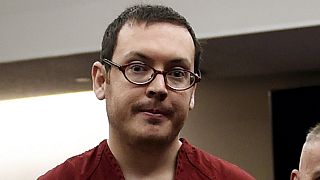 The man who was convicted of killing 12 people and wounding 70 others inside a Colorado cinema has been formally sentenced to life in prison.
James Holmes, a neuroscience graduate student, was earlier spared the death penalty by jurors.
He was sentenced to serve 12 life sentences (one for each victim) consecutively followed by 3,318 years of jail time. There is no possibility of parole.
On 20 July 2012, Holmes attacked cinema goers watching a midnight screening of Batman film The Dark Knight Rises with a semi-automatic rifle, a shotgun and a pistol.
Although his lawyers claimed he was mentally ill, prosecutors argued the attack was clearly premeditated, with Holmes planning and amassing weapons for months.