Austria: dozens of migrants die locked in an air-tight truck
Comments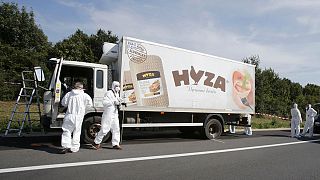 Police examining a lorry abandoned in the lay-by of a motorway in Austria have made a grim discovery.
The bodies of at least 20 immigrants have been found inside.
Officials fear there could be as many as 50.
50 people desperate for a life in Europe found dead in back of a lorry. Imagine being trapped in that lorry. Imagine http://t.co/KZsbylsnSk

— Tim Montgomerie ن (@montie) 27 Août 2015
Where was the lorry found?
The vehicle was left on the A4, the main route to Vienna, near Austria's eastern border with Hungary.
It has been there since at least Wednesday.
For Austrian Interior Minister Johanna Mikl-Leitner, this is proof that it is no longer possible to consider people traffickers as do-gooders who want to help.
Key migration summit in Vienna
The grim discovery comes at the same time as a key summit on migration in Vienna.
German Chancellor Angela Merkel has come under fire for her handling of the issue facing Europe.
"This is a reminder that the problem of migration needs addressing, Merkel told the gathered assembly, "quickly and in a European spirit of solidarity."
Austrian police say the victims had been dead for some time and the bodies had begun to decompose.