The price, and profits, of the people trade
Comments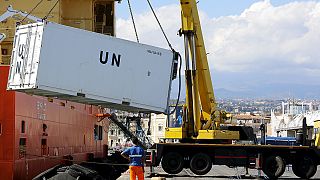 A UN container recently brought a deadly cargo to Catania in Italy. It contained 49 bodies salvaged from an overloaded fishing boat boat where they lay alongside 312 other souls.
They died of asphyxiation in the hold, packed in by unscrupulous smugglers. It is the latest migrant tragedy of many; the third in the last month.
Eight smugglers were arrested by the Italian police, but so many get away scot free. They are Libyan, Moroccan, and Syrian and have been accused of violently forcing the migrants to stay below decks as they struggled to reach fresh air.
This is how chaos and misery is exploited. Smuggling migrants is a lucrative growth industry, and Libya is one of the hubs, if not the hub, of the illegal trade. Those who do not make it to Europe end up detained in this camp where, according to a British inquiry, they are regularly beaten and jailed in inhuman conditions.
The smugglers are more and more active, and their killing and maltreatment of passengers is coming to light more often. With the rise in numbers trying to get to Europe by any route possible, the more the smuggler's business, and their rapes and other crimes come under the spotlight.
Blackmailed and robbed of huge sums of money having risked their lives for a fresh start, these lambs to the slaughter are worth billions to the smugglers. The trade breeds corruption and organised crime in the home countries, the transit ones, and the destinations.
Migrants are worth 135 million euros a year to the smugglers.
A crossing costs between 1800 et 10,000 euros per person.
Just for Calais the trade is estimated at:1.5 million euros.
A boat with 500 people on board is worth between 500,000 to one million euros.
The EU's Head of Diplomacy had this to say last May:
"The fundamental objective is not the destruction of the smuggler's boats, but destroying the smuggler's business model," said the EU's High Representative for Foreign Affairs and Security Policy Federica Mogherini.
While some smugglers are amateurs looking to escape poverty themselves the business is becoming more professional, mimicking the professionalised drugs trade. Dismantling these networks is complicated.
On Thursday Britain and France sign a new agreement to improve the situation in Calais where thousands of migrants have been stranded on their way to the UK. But it will not stop more from arriving.