Young Syrian refugees hope for a better future in Germany: The long journey, part 4
Comments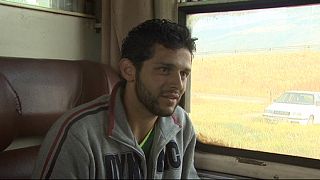 Euronews correspondent James Franey travelled with a group of Syrian refugees on a train journey inside the Former Yugoslav Republic of Macedonia.
To get this far, many have risked their lives, leaving everything they have behind them.
Their journey to Europe has been long and hard. But certainly easier than a life under the barrel bombs of the Assad regime and the brutality of the jihadist groups that operate inside Syria.
Twenty-three year old Motasem travelled from Syria via Greece and Turkey. It took him ten days. He explained why he wants to go to Germany.
Motasem: "…I think it is a country that respects humanity and there is a safe place (…) I think I can continue my studies there."
Euronews: "What do you study?"
Motasem: "I study mechanical engineering for cars."
Euronews: "It's the best country then. You have BMW, Mercedes, Porsche."
Motasem: "Yes, I hope to work in BMW."
After disembarking at the Macedonian border town of Tabanovce, the refugees will make a 10-km walk under the already boiling hot sun towards Serbia.
A walk perhaps towards a better future, but at the same time they remain unsure about what kind of welcome awaits them in Europe.