'They just look and take photos': The Long Journey, part 2
Comments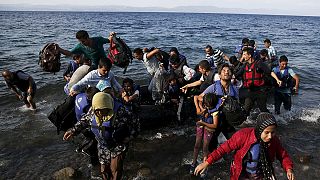 For the second time in two days, the ferry 'Venizelos' docks in Piraeus port, Athens, carrying some 2,000 migrants from the island of Lesbos, most of them Syrian, and some from Afghanistan.
The government and UN organisations just look on and do nothing
In Lesbos, conditions are makeshift and difficult, the facilities insufficient for handling so many migrants.
One Syrian migrant said that people helped them in the capital, Mytileni, but with no apparent support from the government or any UN organisation: "They just looked on and did nothing, only looked and took photos."
The journey from Syria to neighbouring Turkey costs a migrant some 400 euros, we are told; for passage from Turkey to the Greek eastern Aegean Sea, to Lesbos, prices range as high as 1,500 euros.
Maria Galinou, with the Salvation Army, said: "The first thing these frightened, exhausted people want is to be told where they should go, running from place to place with just a piece of paper."
Off the boat, the migrants board buses that take them to Piraeus train station, where they head for central Athens. Their aim is to make for Thessaloniki, a five or six hour journey from the capital. From there, another train takes them to Greece's northern border.
An Afghan migrant told us his only choices at home were to join the Taliban or the army or become a farmer like his father:
"The situation was not good to study there (in Afghanistan). So now we are going to Europe, to Sweden, to get some good education, to do something better with my life and for my family."
After spending the night as best they can, migrants — many of them with children — take the first train available to move on.
Athens correspondent Panos Kitsikopoulos said: "Tickets for trains leaving Athens for northern Greece are snapped up. Every day, hundreds of migrants and refugees board for Thessaloniki and then the border, at Idomeni, to cross into the Former Yugoslav Republic of Macedonia. Exhausted by the long journey, they fall asleep on the pavement or train platforms, but they never seem to lose hope for a better life."
According to the Hellenic Coast Guard, more than 170,000 foreigners have been helped at sea since the beginning of this year.
The International Organisation for Migration says that 250,000 people have crossed the Mediterranean Sea to Europe this year, and that around 124,000 of them entered via Greece, a sevenfold increase compared to 2014.