Ukraine marks 24 years of independence from Soviet rule
Comments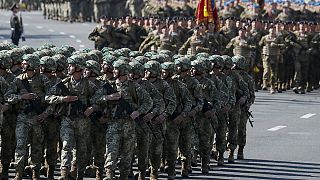 Ukraine is marking 24 years of independence from Soviet rule.
There have been ceremonies in the centre of Kiev, including a show of military might.
A Kiev, on prépare le défilé: l'Ukraine fête demain le 24e anniversaire de son indépendance pic.twitter.com/46kBSKEsB1

— alain guillemoles (@a_guillem) 23 Août 2015
President Petro Poroshenko told the crowd that Russia has sent more troops to the east, sabre-rattling ahead of key talks in Berlin later.
He warned the crowd that the 25th year of independence will be precarious.
On #IndependenceDay President Poroshenko</a> honored key UAF detachments with new flags (to replace Soviet ones) <a href="http://t.co/7wuDQRDCkx">pic.twitter.com/7wuDQRDCkx</a></p>&mdash; Viktor Kovalenko (MrKovalenko) 24 Août 2015
"The battle for Ukrainian independence goes on," Poroshenko told the crowd,"and we can only win by combining efforts in defense and diplomacy."
Reaction in the East
In Donetsk, there is defiance. Dozens of protesters gathered in the city centre.
People in the city say for them, Ukraine is not independent, but is the lackey of Western governments.
"We want them to understand that the people of the Donbass region are united," said one woman,"we area united republic already. We value our people and our children. They must keep their hands off our republic."
Talks in Berlin
France and Germany will preside over stakeholder talks in Berlin later about the implementation of a much-violated ceasefire deal with pro-Russian rebels in the east.