Migrants: scuffles with police as hundreds march in Milan
Comments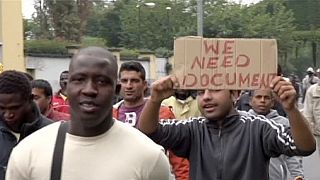 Hundreds of migrants marched down the main Fulvio Testi road, one of the major arteries leading into Italy's financial capital, Milan.
#newshttp://t.co/AF7Q0FqK8J Police and migrants scuffle in Milan http://t.co/vDgwpqxnwA

—

DEGRAF

CHANNEL

(@DegrafChannel) 24 Août 2015
They say the Italian authorities have forced them to remain for months in a temporary holding centre while they wait for documents allowing them to look for work.
Others say they were asked to hand over their original ID papers and would now like them returned.
Scuffles with riot police
Riot police wielding batons moved the group back down the road and pushed them into the holding centre where they are being housed.
The migrants live in large tents in a red cross compound.
As many as eight people sleep on mattresses inside. The occupants say they are overcrowded and the conditions are inhumane.